India's Shortest IAS Officer - Arti Dogra, Rank, Husband, Age, Biography
Arti Dogra: Defying Odds and Inspiring the Nation with her IAS Journey
In the realm of remarkable accomplishments and motivating life stories, Arti Dogra's journey stands as an epitome of determination and an unwavering pursuit of dreams. This article provides a detailed insight into the extraordinary life of Arti Dogra, her family background, educational milestones, career achievements, and the accolades she has earned during her remarkable career as an IAS officer.
Arti Dogra IAS Biography
The UPSC Civil Services Examination, renowned for its complexity and the fierce competition it entails, draws aspiring candidates from all corners of the country every year. Amid this intense competition, Arti Dogra, who stands at just 3 feet and 2 inches, emerges as an emblem of strength and perseverance. Her journey serves as a compelling reminder that one's physical attributes should never hinder their pursuit of dreams. Arti Dogra's story is a testament to the indomitable human spirit.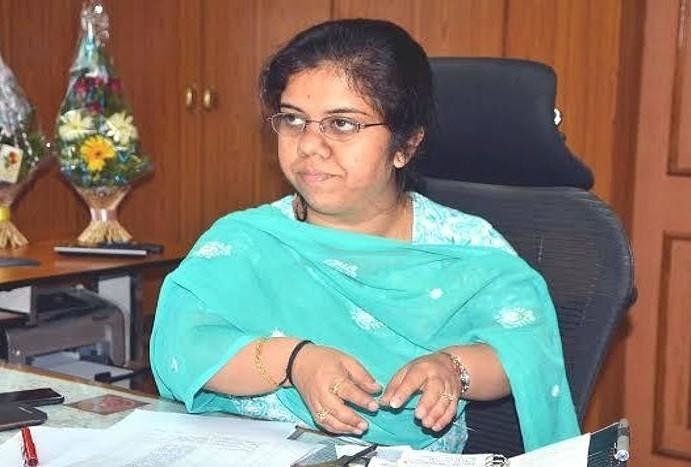 Family Background
Arti Dogra was born in Dehradun in July 1979 to parents of exceptional character. Her father, Colonel Rajendra Dogra, served as an officer in the Indian Army, while her mother, Kumkum Dogra, was a respected school principal. At the time of her birth, doctors conveyed the disheartening news that she would not experience typical physical growth and recommended enrolling her in special schools designed for differently-abled children. However, her parents, unwavering in their belief in her potential, made the extraordinary decision to provide her with a standard education alongside other children. The unwavering support of Arti Dogra's parents laid the foundation for her future success.
Educational Pursuits
Arti Dogra's educational journey began at the prestigious Welham Girls' School in Dehradun. She pursued her undergraduate studies in economics at Lady Shri Ram College, Delhi University, before pursuing post-graduate studies in Dehradun. Following her academic pursuits, she made the crucial decision to prepare for the UPSC Civil Services Examination.
Her journey was powered by the steadfast encouragement of her parents. Arti Dogra found inspiration in IAS Manisha Panwar, the first female IAS officer from Dehradun, whom she had the privilege of meeting during her post-graduate studies. In the face of disparaging comments about her height, Arti Dogra remained resolute in her pursuit of her dreams.
Details about Arti Dogra's husband are not widely available.
Career – Arti Dogra IAS Officer
In 2006, Arti Dogra achieved the remarkable feat of clearing the IAS examination. Her professional journey has been marked by a series of notable accomplishments:
She served as the Managing Director of Jodhpur Discom and held the position of Collector in the Ajmer district of Rajasthan.

Arti Dogra made history as the first female IAS officer to assume the role of Managing Director at Jodhpur Vidyut Vitran Nigam Ltd, a distribution company.

Her roles encompassed serving as Sub-Divisional Magistrate (SDM) and District Magistrate (DM) in Ajmer.

She held prominent positions as the District Magistrate in Bikaner and Bundi and also served as the Territorial Election Officer in Ajmer.

In 2018, she took on the role of Joint Secretary to the Chief Minister of Rajasthan, Mr. Ashok Gehlot.
Arti Dogra's remarkable contributions to society were highlighted during the assembly elections in Rajasthan. She facilitated differently-abled individuals in exercising their voting rights by providing specialized assistance and facilities, resulting in an exceptional voter turnout of 59.88% among differently-abled citizens in the district.
Awards and Recognitions
Arti Dogra has received numerous prestigious awards:
In 2019, she was honored with the National Award by President Ram Nath Kovind for her outstanding performance as the District Election Officer during the Ajmer assembly elections in 2018.

Her dedication and commitment earned her the appreciation of Vasundhara Raje Scindia, the former Chief Minister of Rajasthan, during her tenure as the District Magistrate of Ajmer.

Arti Dogra was recognized for her outstanding work at Rajasthan's Healthcare Summit in 2018, with the theme "Daughters are Precious." She has received numerous accolades at the state and national levels for her exceptional contributions.
Conclusion – Arti Dogra IAS
Arti Dogra's remarkable journey serves as a potent reminder that physical attributes should never hinder one's pursuit of dreams and aspirations. Her unwavering dedication and resolve continue to inspire individuals, particularly those confronting physical challenges. Her story underscores the resilience of the human spirit and serves as an exemplar of determination in the face of disparagement.
If you are an aspiring IAS candidate preparing for the UPSC examination, Arti Dogra's story should serve as an unwavering source of motivation. With the right guidance, tenacity, and hard work, you too can realize your dreams. Remember that the UPSC Civil Services Examination is arduous, but your determination can lead you to success.
Many of our readers have been bored lately as they are stuck at home because of the pandemic of COVID-19. Thanks to the technology we have today there are different ways to entrain yourself since the world wide web is a big place to explore. We make it easier for you to give you the latest TV shows, movies, celebrity gossip, and many more worthwhile articles, but today we found a new site called casinoexpressindia.com, this site provides all of our readers from India, the best in https://casinoexpressindia.comonline casino. Time to check out those new TV shows we love to recommend while playing different fun games.