Who Is Megan Schutt's wife? Read About Jess Holyoake
Megan Schutt's Love Story: On and Off the Cricket Field
Updated: Oct 11, 2023, 20:58 IST
Megan Schutt, the Australian cricketer known for her prowess on the field, is not only celebrated for her achievements in cricket but also for her love story with her wife, Jess Holyoake. In this article, we delve into Megan Schutt's remarkable career and her personal life with Jess Holyoake, shedding light on their love story and family life.
The Rise of Megan Schutt: A Cricketing Sensation
Megan Schutt's journey in the cricketing world is a testament to her talent and dedication. Hailing from Australia, she represents the Adelaide Strikers in the Women's Big Bash League (WBBL) and the Royal Challengers Bangalore in the Women's T20 Challenge (WPL). Megan is widely regarded as one of the best fast bowlers in women's cricket, and her journey to the top began at a remarkably young age.
She started her domestic cricket career at just 16 years old, playing for the South Australian Scorpions. Megan's exceptional skills soon caught the eye of selectors, leading to her inclusion in the 2013 Women's World Cup squad. It was in this tournament that she truly showcased her prowess, taking 15 wickets in seven matches, which made her the highest wicket-taker in the competition.
Megan Schutt played a pivotal role in Australia's victory in the Ashes Series in 2015, marking their first win in 14 years. In 2018, she achieved a remarkable feat by taking a hat-trick against India during the tri-series. This made her the first Australian woman cricketer to achieve such a feat in a T20 match. Her impact on the game was further solidified when she was one of the main bowlers in the team's triumph in the 2023 T20 World Cup in South Africa.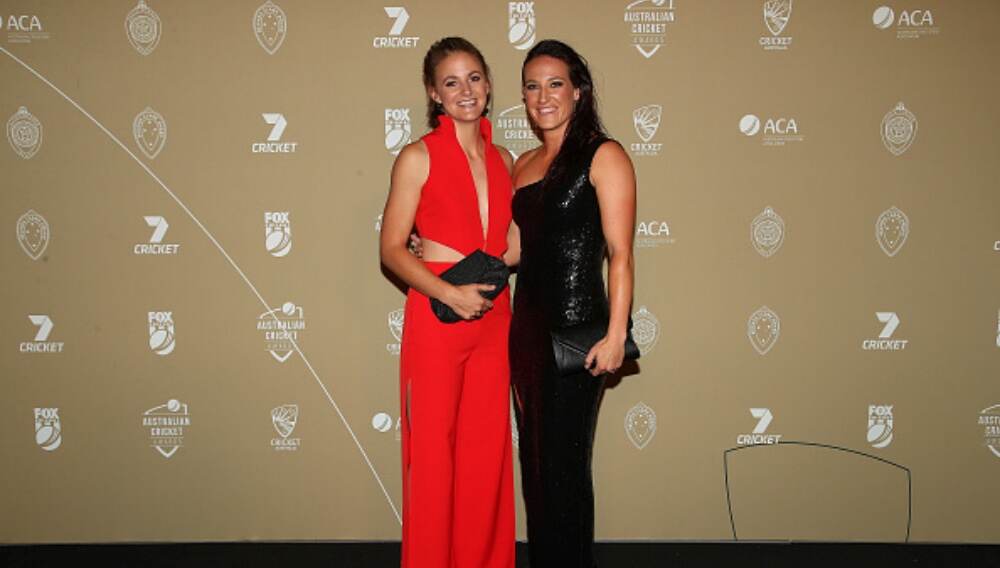 The Love Story of Megan Schutt and Jess Holyoake
Megan Schutt's love story with Jess Holyoake is both heartwarming and inspiring. Jess serves as a co-relation manager for a cricket team. Their love story began through the game of cricket, which they both share a deep passion for. After a long and loving relationship, Megan Schutt and Jess Holyoake decided to tie the knot on March 31, 2019.
Megan announced her marriage through Twitter, expressing that it was the best day of her life. This wedding marked a significant moment in their lives and a testament to their enduring love.
The Arrival of Rylee Louise Schutt
Megan Schutt and Jess Holyoake's love story expanded with the arrival of their beautiful daughter, Rylee Louise Schutt, on August 17, 2021. The birth of their child was a moment of immense joy for the couple.
Megan Schutt shared the news on Twitter, revealing that Rylee Louise Schutt was born via an emergency C-section. Their family life now includes their precious daughter, and their journey as parents has undoubtedly added a new dimension to their love story.
A Glimpse into Jess Holyoake's Life
Jess Holyoake is renowned as a co-relation manager of a cricket team. Her marriage to Megan Schutt has introduced her to the world of cricket in a unique way. Together, they form a loving family, nurturing their relationship and sharing the joys of parenthood.
In conclusion, Megan Schutt's journey in cricket and her love story with Jess Holyoake serve as a source of inspiration and celebration. Megan's advocacy for same-sex marriage and her achievements on the cricket field stand as a testament to her remarkable character. Her life with Jess Holyoake and the addition of their daughter, Rylee Louise Schutt, exemplify the power of love and family in all its forms.
Many of our readers have been bored lately as they are stuck at home because of the pandemic of COVID-19. Thanks to the technology we have today there are different ways to entrain yourself since the world wide web is a big place to explore. We make it easier for you to give you the latest TV shows, movies, celebrity gossip, and many more worthwhile articles, but today we found a new site called casinoexpressindia.com, this site provides all of our readers from India, the best in https://casinoexpressindia.comonline casino. Time to check out those new TV shows we love to recommend while playing different fun games.