Anushka Sham Gave Warm Hug To Virat Kholi After India's Loss In World Cup Final!!
An image of Anushka Sharma hugging her husband Virat Kohli following India's loss in the Cricket World Cup final quickly went viral.
The high-voltage Cricket World Cup final match between India and Australia took place on November 19 at the Narendra Modi Stadium in Ahmedabad. Australia prevailed by six wickets and took home the title. Today, the entire country's heart sank as India lost the last match. An image of Anushka Sharma hugging her husband, cricketer Virat Kohli, following the match has gone viral.
An image on Instagram of Anushka Sharma giving her husband Virat Kohli a heartfelt hug after India's World Cup final loss to Australia went viral. Anushka may be seen in the photo being supportive of her spouse. They hugged each other, both looking dejected.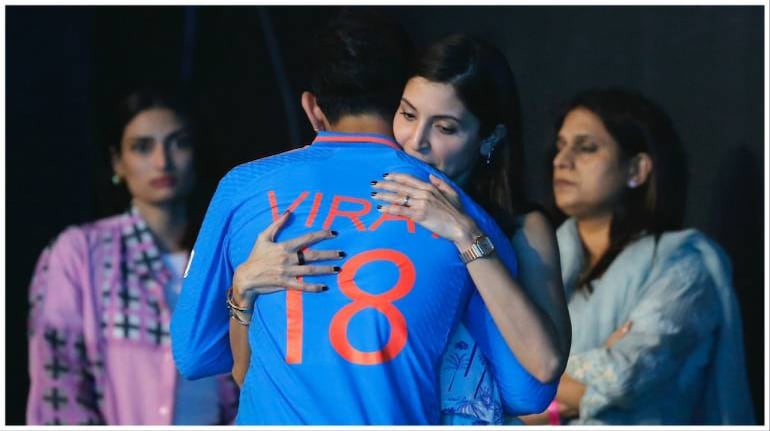 Anushka and Athiya Shetty, on the other hand, appeared dejected in an Instagram photo after India lost the final match against Australia. Take a look at this:
PM Narendra Modi sent out an encouraging tweet, writing, "Dear Team India, Your talent and determination during the World Cup were impressive. You've played with zeal and given huge pride to the country. We will always be there for you."
"The way the Indian team has played this entire tournament is a matter of honor, and they showed great spirit and tenacity," Shah Rukh Khan wrote. "It's a sport, and everyone has a bad day or two. Unfortunately, it occurred tonight, but thank you, Team India, for making us so proud of our cricketing tradition...You spread much too much joy throughout India. Respect and love. You make us one proud country."
Ayushmann Khurrana tweeted several photos from the stadium, writing, "Just a bad day at work @indiancricketteam." You will be recognized as the fiercest team in #WorldCup2023. "Well done!"
Meanwhile, numerous Bollywood celebs expressed their support for India following the devastating World Cup final defeat.
India's six-wicket loss to Australia in the Cricket World Cup final in Ahmedabad on Sunday left millions of supporters devastated. Many people began departing the stadium in droves by the 35th over of Australia's chase, having survived the lengthy, colorful, and joyful waits for hours early Sunday to get into the pitch in Ahmedabad's Motera.
Many of our readers have been bored lately as they are stuck at home because of the pandemic of COVID-19. Thanks to the technology we have today there are different ways to entrain yourself since the world wide web is a big place to explore. We make it easier for you to give you the latest TV shows, movies, celebrity gossip, and many more worthwhile articles, but today we found a new site called casinoexpressindia.com, this site provides all of our readers from India, the best in https://casinoexpressindia.comonline casino. Time to check out those new TV shows we love to recommend while playing different fun games.