Koffee with Karan, Season 8, Episode 3 - Review 
For the third episode of the newly phrased season of the show, Karan Johar had two of the youngest and leading actresses from the Bollywood industry. The actresses are the new BFFs of the town and share an adorable, girly bond. It was Sara Ali Khan and Ananya Panday on the couch!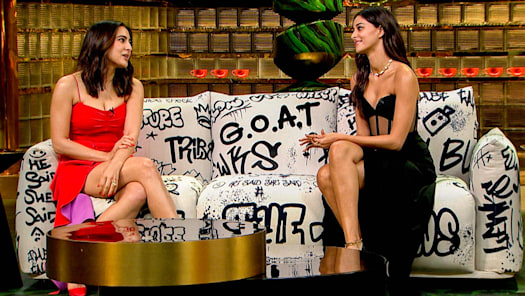 The ladies are best friends and share a cool bond. Sara was wearing a red mini dress with a long frill by the side with minimal accessories and makeup. Meanwhile, Ananya was in a black corset dress with a diamond necklace. Both of them were looking gorgeous throughout the episode.
KJo talked with them regarding their personal as well as professional lives. The sizzles began when Sara clarified that she is not who is dating Subhman Gill but the other Sara. Later, sje talked about her motivations in life and more. She made a lot of things clear to the audience like when she said that she had a few designer bags. Meanwhile, Ananya had been blushing on her dating topic with Aditya Roy Kapoor and also she somewhat accepted the relationship. The actresses flaunted their friendship through the games and conversational supports.
Ananya gave a lot of insights on how she is working on becoming a better actor for the love and respect from the audience. And we saw Sara talking about she now wanting a long term and meaningful relationship. I think both the actresses have been reaching to a profound phase in their lives. Talking about the rapid fire, both of killed it like some of their replies were just on point. But the most disappointing thing was Sara's shayari by the end. Also, I felt she kind of over did the victory part for the hamper. I mean okay, you won and we see that!
You can watch the episode on Disney Plus Hotstar. I would rate it 4/5.
Many of our readers have been bored lately as they are stuck at home because of the pandemic of COVID-19. Thanks to the technology we have today there are different ways to entrain yourself since the world wide web is a big place to explore. We make it easier for you to give you the latest TV shows, movies, celebrity gossip, and many more worthwhile articles, but today we found a new site called casinoexpressindia.com, this site provides all of our readers from India, the best in https://casinoexpressindia.comonline casino. Time to check out those new TV shows we love to recommend while playing different fun games.