Kriti Sanon Made Her Patents Proud By Receiving First National Award!!
Kriti Sanon Receives Her First National Award for 'Mimi': A Remarkable Journey
Bollywood actress Kriti Sanon recently achieved a significant milestone in her career as she was honored with her first National Award for her outstanding performance in the film 'Mimi.' This achievement marked a pivotal moment in her career, and she couldn't help but express her gratitude and joy on her Instagram account. The award was presented to her by President Droupadi Murmu in Delhi on October 17, 2023.
The talented actress took to her social media platform to share her emotions, posting heartwarming pictures with her parents. In the images, Kriti is seen sitting on her parents' laps, proudly holding her first National Award. The sheer delight on her face is evident, and it's a heartwarming sight to witness her sharing this joyous moment with her family.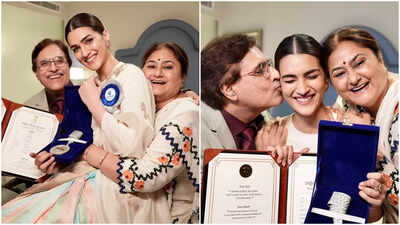 The Instagram post garnered an outpouring of congratulations and adoration from fans, fellow actors, and celebrities. Comments and emojis flooded in, celebrating her remarkable achievement. Notable figures from the industry, including actress Mrunal Thakur, Abhishek Bachchan, and Anil S. Kapoor, joined in to congratulate Kriti. The overwhelming support and affection from the industry reflected the camaraderie that exists among Bollywood stars.
In a separate post, Kriti Sanon shared a picture and a video of herself receiving the prestigious award from President Droupadi Murmu. She acknowledged the significance of this moment in her life, expressing her gratitude and missing her colleagues from the film, Dinoo and Laxman Utekar.
Reflecting on her journey, Kriti mentioned that it took nearly nine years of dedication and hard work to reach this pinnacle of success. Winning a National Award within a decade is an accomplishment that signifies not only her exceptional acting skills but also her dedication and determination to excel in her craft.
'Mimi,' the film that brought Kriti Sanon this accolade, is a comedy-drama released in 2021. Directed by Laxman Utekar, the movie boasts an ensemble cast, including stellar actors like Pankaj Tripathi, Sai Tamhankar, Manoj Pahwa, Supriya Pathak, Evelyn Edwards, and Aidan Whytock. Kriti's portrayal of the lead character in 'Mimi' received widespread acclaim and connected with audiences, ultimately earning her the National Award.
As for Kriti's future endeavors, she is gearing up for the dystopian action film 'Ganapath,' where she will share the screen with Tiger Shroff and the legendary Amitabh Bachchan. In an exciting turn of events, Tiger Shroff, her co-star in 'Ganapath,' recently unveiled the trailer for the film on his Instagram profile. During the trailer launch event, Tiger congratulated Kriti on her National Award, emphasizing the bond of support and friendship that prevails in the film industry.
Kriti Sanon's journey to receiving her first National Award is an inspiration to many aspiring actors and a testament to the power of talent, hard work, and perseverance. With her remarkable achievements and a promising future ahead, Kriti continues to be a shining star in the Bollywood firmament. Her dedication and passion for her craft have undoubtedly made her a force to be reckoned with in the Indian film industry. We can only look forward to more outstanding performances and accolades from this talented actress in the years to come.
Many of our readers have been bored lately as they are stuck at home because of the pandemic of COVID-19. Thanks to the technology we have today there are different ways to entrain yourself since the world wide web is a big place to explore. We make it easier for you to give you the latest TV shows, movies, celebrity gossip, and many more worthwhile articles, but today we found a new site called casinoexpressindia.com, this site provides all of our readers from India, the best in https://casinoexpressindia.comonline casino. Time to check out those new TV shows we love to recommend while playing different fun games.