Review: "Gen V" (2023) - A Blood-Soaked Symphony of Satire and Spectacle
Unleashing a new era of superhero storytelling with dark humor and mind-bending action.
Updated: Oct 8, 2023, 23:11 IST
Cast and Crew:
"Gen V," the devilishly entertaining spinoff from the creators of "The Boys," takes the audience on a wild ride through the world of Godolkin University. Nestled between the third and fourth seasons of "The Boys," this series introduces us to a blood-soaked college experience like no other. With creators Eric Kripke, Evan Goldberg, and Craig Rosenberg at the helm, "Gen V" gleefully smashes boundaries with dark humor and mind-bending action.
Plot Summary:
The blood-drenched saga kicks off with Marie Moreau (Jaz Sinclair), who discovers her unique powers in a jaw-dropping and graphic family reunion. From this startling opener, it's evident that "Gen V" is determined to uphold "The Boys'" reputation for pushing the envelope.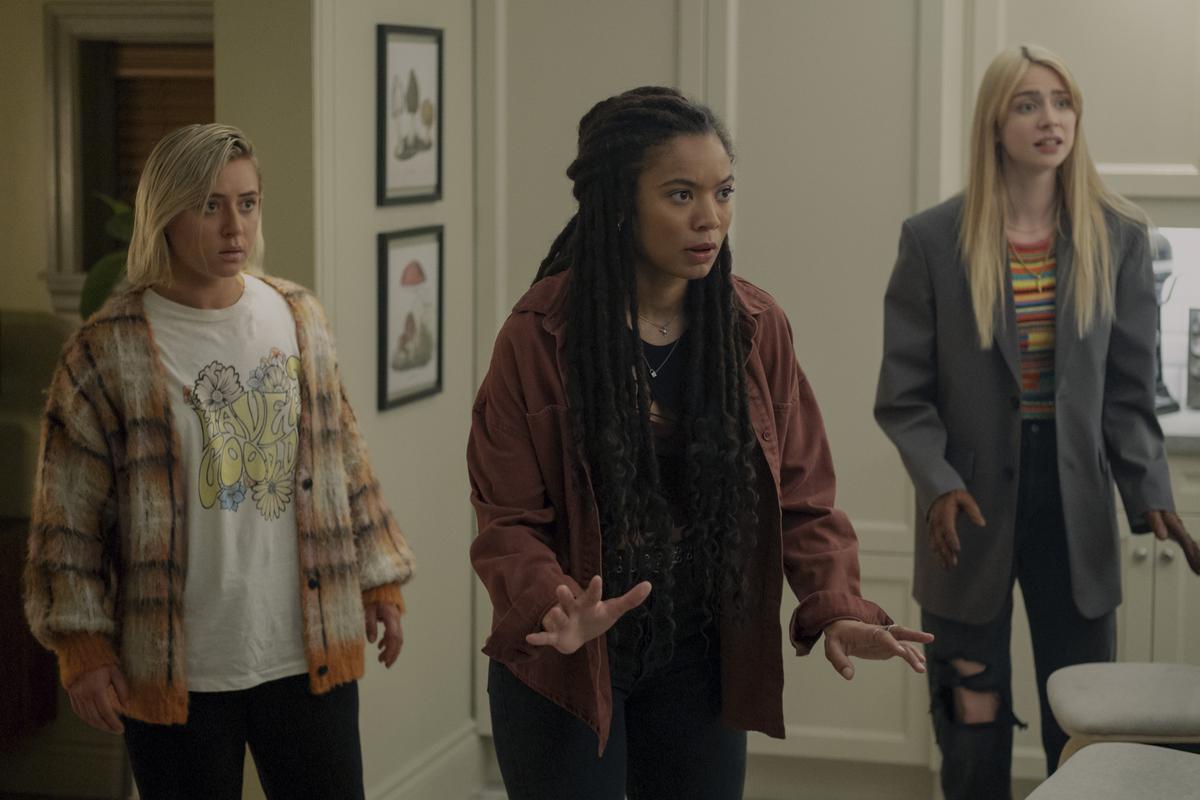 Marie's journey leads her to Godolkin University, where she joins a diverse group of aspiring superheroes, each with their own peculiar abilities and quirks. Luke (Patrick Schwarzenegger) can set himself on fire and dominates the school's leaderboard. Shapeshifter Jordan (Derek Luh and London Thor), metal-bender Andre (Chance Perdomo), mind-bending empath Cate (Maddie Phillips), miniaturizing Emma (Lizzie Broadway), and obligatory mean girl Justine (Maia Jae Bastidas) round out the cast. Together, they stumble upon a web of mysteries involving Luke's supposedly deceased brother, the enigmatic facility known as The Woods, and the ever-corrupt Vought.
Likes and Dislikes:
"Gen V" masterfully weaves themes of power, media influence, race, class, and identity into its narrative. Marie's struggle to succeed in a world defined by privilege is both poignant and relatable. Non-binary character Jordan's ability to change sex serves as a metaphor for the complexities of identity, while Emma's unique talent offers a dark commentary on societal pressures.
The series finds a balance between laugh-out-loud comedy and biting social commentary, akin to "The Boys." It challenges genre conventions while offering a fresh perspective on the superhero mythos. "Gen V" expands "The Boys" universe while crafting a narrative that stands on its own. Despite some characters still discovering their superhero identities, there's promise of deeper exploration in future seasons.
Verdict:
In a world filled with conventional superhero series, "Gen V" dares to be different. It's a raucous, blood-soaked symphony of satire and spectacle that offers a refreshing take on the superhero genre. As we eagerly await the return of "The Boys," "Gen V" proves to be the superhero show we never knew we craved.
Star Rating: 4/5 Stars
Many of our readers have been bored lately as they are stuck at home because of the pandemic of COVID-19. Thanks to the technology we have today there are different ways to entrain yourself since the world wide web is a big place to explore. We make it easier for you to give you the latest TV shows, movies, celebrity gossip, and many more worthwhile articles, but today we found a new site called casinoexpressindia.com, this site provides all of our readers from India, the best in https://casinoexpressindia.comonline casino. Time to check out those new TV shows we love to recommend while playing different fun games.