Review: Lust Stories 2 
Updated: Jul 3, 2023, 10:41 IST
Lust Stories 2 in out on Netflix from 29th June 23. Did you watch it? Well, Lust Stories 1 got an outstanding response and the audience enjoyed each of the stories along with the characters and the performance. I anticipated a second sequel of course and expected it to bolder, more intense, sizzling and more powerful characters and stories than the first. Today, I will be talking about the character, stories, and if the second sequel stood out my expectation. Seeing the posters and trailer of the film, I was too excited to watch Kajol in this film as we have always seen her in family movies, and also to watch the hottest couple in town Vijay and Tamannah. Let me describe my take on the film.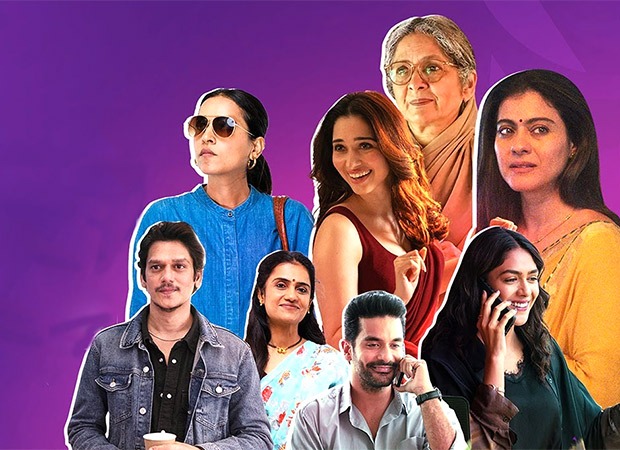 1. Made for Each Other
It stars Mrunal Thakur, Angad Bedi, and Neena Gupta and shows a relatable story. The story begins with the lead couple ready to get married and their families meeting to discuss the preparations and then their grandmother insists them to have sex before marriage to check if they are compatible. Talking about the performance, Neenaji stole the show with the amazing timing of humour and dialogue delivery. Mrunal looks adorable and one of the scenes where she talks to her grandmother after having sex is admirable. Angad's role didn't have much do so. I wish his role would have been given a bit more importance and expected Angad to stand out. Overall, this story was my favorite and the most decent one out of the rest. I feel it showcases an important message of how sex is important for love in a good way with Neenaji's character. I absolutely loved her performance.
2. The Mirror
This is an insane story for me as I haven't seen such till now. It stars Tillotama Shome and Amruta Subhash in key roles. Amruta had a strong personality to play and I feel she stood out. It is the story of a Mumbai resident whose maid has sex with her husband every day on her bed. Soon the resident gets to know about it but instead of catching them red-handed, she used to sit back and watch them have sex through a mirror and enjoy. Later, the maid also understands that the owner watches them and it becomes a turn-on for her. Overall, it is a sizzling story! Tillotama gave a good performance here. This story was a bit harsh to take in for me as it showed an unusual situation.
3. Sex with Ex
It stars the latest hot couple of Bollywood. Would you guess who they are!? Well, it's Tamannaah Bhatia and Vijay Verma and it also stars Mukti Mohan. The story begins with Vijay and Anita being married and Vijay is on the way to meet his girlfriend, where he meets an accident and ends up in a mysterious village named Paraisol. Here he bumps into Shanti who is his first wife and was thought to be dead. Then the story builds suspense which at the end comes out silly! Do watch it to know and enjoy the suspense. We see an electrifying chemistry between Tamannaah and Vijay. She looks super hot and sexy in the saree. I really enjoyed the twist by the end of the story. I was expecting Vijay to give a performance better than that of Darlings but I still feel he did a better job there.
4. Tilchatta
It is the most anticipated story of the series as it stars Kajol. This is the story of a royal family where Kumud Mishra is a lusty man with a wife Devyani and a son Ankur. Kumud lusts his maid as well and one day she is replaced with another girl, Rekha and he can't wait to take her to bed. The film has beautiful shots from Jhansi and Gwalior. I loved Kajol and her powerful stand throughout the story but the end might dishearten you! Let's not reveal much about it now. Kajol was just on point throughout the story and I loved how it showcased the view of people for prostitutes. It was my first time to watch Kumud Mishra in a harsh role and I liked him. Also, Ankur was played well but he seemed a bit dull to me.
After watching the entire film, I felt that they felt all the women characters in focus and created powerful characters out of them and that's a good thing but the males could have been given some space on the screen, especially in the first and third story. I would give this film a 3.5/5.
Many of our readers have been bored lately as they are stuck at home because of the pandemic of COVID-19. Thanks to the technology we have today there are different ways to entrain yourself since the world wide web is a big place to explore. We make it easier for you to give you the latest TV shows, movies, celebrity gossip, and many more worthwhile articles, but today we found a new site called casinoexpressindia.com, this site provides all of our readers from India, the best in https://casinoexpressindia.comonline casino. Time to check out those new TV shows we love to recommend while playing different fun games.