This Is What Mrunal Thakur Learned From Imtiaz Ali's "Jab We Met"!!
Mrunal Thakur's Journey of Inspiration: Travel, 'Jab We Met,' and Empowerment
Introduction
Actress Mrunal Thakur, celebrated for her versatile acting skills, has not only enthralled audiences with her performances on the silver screen but has also made an indelible mark as a travel enthusiast and influencer on social media. In a recent interview with ETimes, the talented actress opened up about her passion for travel, sharing her experiences and revealing how the character Geet from the iconic Bollywood film 'Jab We Met,' portrayed by Kareena Kapoor, played a pivotal role in inspiring her independent journeys and decision-making process. In this article, we explore the fascinating world of Mrunal Thakur, her love for travel, and the valuable life lessons she gleaned from the beloved film.
A Glimpse into Mrunal's World of Travel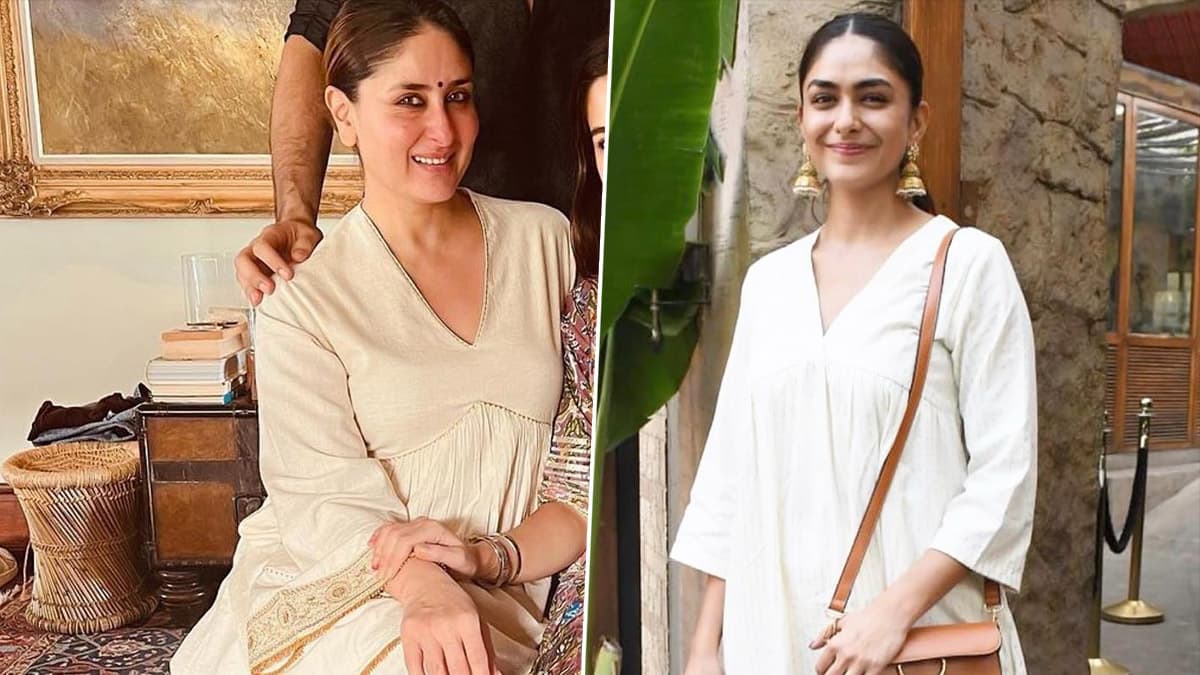 If you've ever perused Mrunal Thakur's Instagram account, you'd know that her love for travel is as real as her on-screen charisma. The name 'Mrunal' itself signifies a free spirit, as it means 'Deer,' symbolizing her inability to stay in one place for long. She candidly shared that her parents often express amazement at the sheer number of destinations she traverses. Her adventures range from exploring different parts of the world to savoring diverse cuisines, and immersing herself in the rich tapestry of global cultures.
What sets Mrunal's travel experiences apart is her ability to weave them into her busy schedule as an actress. She smartly extends her stays by a few days after shooting, which allows her to dive into the heart of each location. Through her extensive travels, Mrunal manages to keep her friends and followers engaged and motivated. Her active presence on social media makes it feel like they are on these journeys with her, inspiring them to follow their own travel dreams.
Sharing Experiences and Inspiring Others
Mrunal Thakur isn't just about visiting exotic destinations; she's an advocate for sharing her experiences with others. She passionately discusses her explorations, be it the places she visits, the delectable cuisine she savors, the people she meets, or the fascinating traditions and cultures she immerses herself in. Her motivation is clear: she wants to inspire others to lead happier lives through travel, just as she does.
Mrunal firmly believes that traveling enriches her as an individual. Meeting new people, experiencing diverse traditions and cultures has played a significant role in shaping her into a better person. She exemplifies the belief that traveling isn't just about leisure; it's a transformative experience that broadens one's horizons and leads to personal growth.
Mrunal's Travel Hacks
One aspect of Mrunal Thakur's travel persona is her resourcefulness in managing hectic travel itineraries. She has effectively partnered with travel brands like Kayak to facilitate her journeys. For her, the app is more than just a tool; it's a companion that resonates with her travel philosophy. Mrunal appreciates that Kayak streamlines all travel-related tasks and concerns into one place, making the process seamless and enjoyable. Her endorsement of the app also extends to empowering fellow travelers, especially women, to be more independent in their journeys.
Unforgettable Memories of Festive Travels
Among Mrunal Thakur's cherished travel memories, one stands out – traveling during festivals. She reminisces about carrying Diwali snacks and exploring the heart of festivities in different regions. This unique experience opened her eyes to the diverse ways in which festivals are celebrated across India. It was a joyous moment when she indulged in Diwali snacks during her travel, an authentic way of immersing herself in the local culture and traditions.
'Jab We Met' and the Inspiration of Geet
One of the most intriguing aspects of Mrunal Thakur's travel narrative is her deep-rooted connection with the character Geet, portrayed by Kareena Kapoor in the film 'Jab We Met.' Geet's journey in the film, especially her train ride from Mumbai to Bhatinda, served as an inspiring benchmark for Mrunal's own travel adventures. She credits the character's spirit and fearlessness for motivating her to undertake long train journeys herself, such as the 24-hour ride from Mumbai to Kerala. Her ability to convince her family of the safety and charm of such adventures demonstrates the power of cinematic inspiration in the real world.
Furthermore, Mrunal draws essential life lessons from 'Jab We Met.' She resonates with the dialogue, "I am my favorite," as a reminder that self-love should be at the core of personal happiness. The film inspired her to love herself unconditionally and taught her that true happiness should not be dependent on others. She also took to heart the message of self-determination, making decisions for herself without placing blame on external factors. In essence, 'Jab We Met' instilled in her the values of self-confidence and empowerment.
Conclusion
Mrunal Thakur's journey, both on-screen and in real life, reflects a vibrant blend of travel, exploration, and inspiration. Her love for travel, her commitment to sharing her experiences, and the lessons she learned from 'Jab We Met' all combine to create a unique and admirable travel influencer. As she continues to inspire her followers and fans, Mrunal's love for travel and her empowering message serve as a reminder that the world is waiting to be explored, and our own empowerment is within our hands.
Many of our readers have been bored lately as they are stuck at home because of the pandemic of COVID-19. Thanks to the technology we have today there are different ways to entrain yourself since the world wide web is a big place to explore. We make it easier for you to give you the latest TV shows, movies, celebrity gossip, and many more worthwhile articles, but today we found a new site called casinoexpressindia.com, this site provides all of our readers from India, the best in https://casinoexpressindia.comonline casino. Time to check out those new TV shows we love to recommend while playing different fun games.