Top 20 Bollywood Movies on Netflix in 2021
Best Bollywood Movies on Netflix: Although the main focus has and will always be International content for Netflix here in India. It is interesting to watch them explore regional content with recent hit films and TV shows like Chopsticks and Sacred Games. But, in the background there are still open to showcase and distribute theatrical releases and multiple old classics. So, here is a curated list of the Best Bollywood Movies on Netflix that are available to stream for you own pleasure.
20. Zindagi Na Milegi Dobara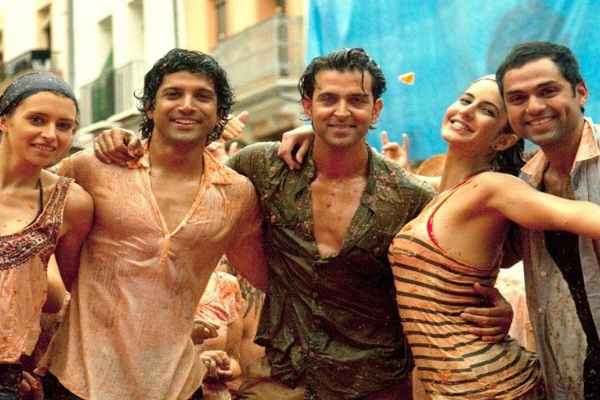 Starring – Hrithik, Abhay & Farhan
Director – Zoya Akhtar
Genre – Drama
The 20s and 30s are the ages when you have time and health to explore the world. But do we ever leave our jobs? Do we ever leave all the tensions and just travel? This movie is all about it because Laila once said "Seize the day my friend … Pehle is din ko poori tarah jiyo, phir challis ke bare mein sochna."
Zoya Akhtar is one of the best when it comes to speaking with her scenes in the film (without dialogues). One of the best examples of her brilliant direction is the luggage packing scene at the start of the movie. Without any dialogue, she described her characters by their luggage packing styles.
19. Tamasha

Starring – Ranbir Kapoor & Deepika Padukone
Director – Imtiaz Ali
Genre – Drama
When it comes to Imtiaz Ali's movies, it's always quite difficult for me to come to a final conclusion, I have to sit down for a while after watching the movie, compose my mind and then have to share my thoughts. And unsurprisingly, Tamasha tumbled down to the same class where my brain got perplexed for a good thirty minutes, and that's what artistic films normally do, right?
The movie certainly had a few problems when it comes to the abstruse narrative structure, but, the heart-wrenching moments, astounding performances and the dulcet music are the few attributes that defined the movie magnificently.
18. Fashion
Starring – Priyanka Chopra & Kangana Ranaut
Director – Madhur Bhandarkar
Genre – Drama
Preview Only: Small-town girl Meghna Mathur (Priyanka Chopra Jonas) sets out to fulfill her dream of being a glamourous supermodel. But she soon discovers that in the corrupt world of haute couture, success comes at a price.
17. Article 15

Starring – Ayushmann Khurrana
Director – Anubhav Sinha
Genre – Crime / Drama
Anubhav Sinha's Article 15 may be one of the most important movies of this year and most certainly one of the Best Bollywood Movies on Netflix, and it definitely lives up to those expectations. This movie deals with some very important social issues that plague modern India – the caste system and its impacts. The story is based on several incidents that happened over the past few years, particularly the rape and murder of two young girls in Badayun, UP.
In the film, the cops are unwilling to investigate the case as the victims belong to a lower caste when they are reported missing. When the two girls turn up dead, the police pin the murders on the girl's families without conducting an investigation.
Article 15 could so easily have been a heavy-handed film as it tries to show the realities of the caste system in India. Instead, it opts for a realism that is refreshing and allows the audience to absorb the story on their own. This is a must-watch movie for everyone because sometimes those of us in the cities lose touch with the real India and this story is a real eye-opener.
16. Haider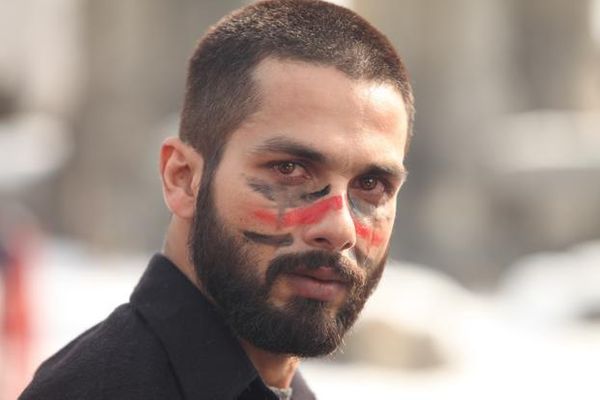 Starring – Shahid Kapoor, Tabu
Director – Vishal Bharadwaj
Genre – Crime / Drama
This Vishal Bharadwaj's masterpiece is a modern-day adaptation of Shakespeare's Hamlet and Basharat Peer's memoir Curfewed Night. With Shahid Kapoor and Tabu playing the lead roles in the movie, the supporting lead, Shraddha plays Shahid's childhood sweetheart and a journalist. Set amidst the insurgency-hit Kashmir conflicts of 1995 and civilian disappearances, this movie is an art which showcases a wide range of emotions, powerful characters and splendid scenes. A must watch and one of the Best Bollywood Movies on Netflix for a reason!
15. Raat Akeli Hai
Starring – Nawazuddin Siddiqui & Radhika Apte
Director – Honey Trehan
Genre – Crime / Thriller
Raat Akeli Hai, the new Bollywood Original is a whodunit mystery thriller, directed by Honey Trehan and stars Nawazuddin Siddiqui and Radhika Apte in the lead roles. As an overall film, the narrative astonishes and goes beyond your regular whodunit thriller. It explores the wide variety of concerns we still face on a day-to-day basis and combines them in immaculately with the on-going narrative. The top-notch performances and the captivating storyline make us neglect the drawbacks, the film when it comes to the screenplay, and the runtime.
14. Chameli
Starring – Kareena Kapoor and Rahul Bose
Director – Anant Balani & Sudhir Mishra
Genre – Drama
Preview Only: A major turning point in Kareena Kapoor's career, Chameli explores the life of Aman, a banker, and Chameli, a prostitute, who meet during a downpour in Mumbai as they take shelter from the rain. Though they have nothing in common, they still form a bond and start talking about life.
13. Paan Singh Tomar
Starring – Irrfan Khan, Mahie Gill
Director – Tigmanshu Dhulia
Genre – Biopic
Tigmanshu Dhulia's 2012 directorial details the life of Paan Singh Tomar, an athlete who won gold medals at the Indian National Games multiple times in succession, is compelled to turn into a dacoit when his mother is killed and the police don't make any move. With stellar performances and remarkable screenwriting work, this movie is a masterpiece and, without a doubt, one of the Best Bollywood Movies on Netflix.
12. Har Kisse Ke Hisse: Kaamyaab
Starring – Sanjay Mishra, Deepak Dobriyal
Director – Hardik Mehta
Genre – Drama
Kaamyaab is full of heart and is dedicated to those that Sudheer (Sanjay Mishra) refers to as the 'Aaloo' of Bollywood films – the character artists and the extras. The movie largely turns out to be a significant watch with the positives outweighing the negatives. If you're one of those people who complains or is tired of hearing that 'Bollywood mein achi filmein nahi banti' and open to exploring the slightly off-beat indie stories, Kaamyaab deserves to be seen. A gives a gleeful hope for the future of our Bollywood cinema.
11. AK vs AK
Starring – Anil Kapoor & Anurag Kashyap
Director – Vikramaditya Motwane
Genre – Thriller
Best Bollywood Movies on Netflix: Directed by Vikramaditya Motwane, AK vs AK opens a new dimension to Indian Cinema and brings to the table an unseen form of filmmaking in mainstream cinema. It begins with the actor-director duo rehashing their past and the opportunities of working together lost between them. Then we move to a conversation on a public platform that slowly escalates to a major scuffle and an entire media storm about the celebrities. A sinister plot is hatched to achieve redemption after the public humiliation.
10. Ludo
Starring – Various
Director – Anurag Basu
Genre – Dark Comedy / Crime
"Ludo is life, life is Ludo." Anurag Basu, as a director, is known for his eccentric portrayal of characters and storylines. He has one of the most unique worldviews and presents some intriguing cinema. Ludo is a film where four stories of crime, greed, money, and love overlap, all leading up to one wild climax. Different, quirky, eccentric, and dark the narrative succeeds because of Anurag Basu's worldview and a stellar ensemble cast. One of the Best Bollywood Movies on Netflix.
9. Dev D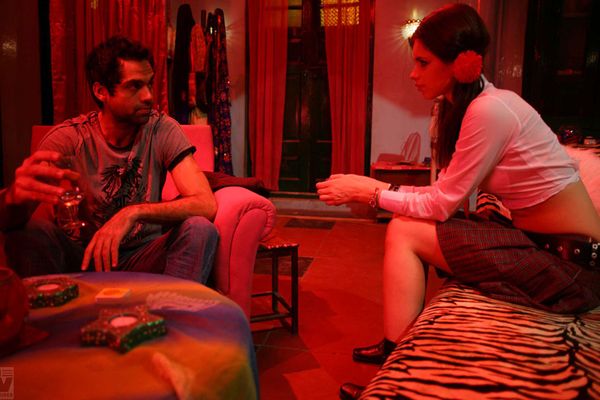 Starring – Abhay Deol & Mahie Gill
Director – Anurag Kashyap
Genre – Romance / Black Comedy
A more contemporary take 0n Sarat Chandra Chattopadhyay's exemplary Bengali novel, Devdas, Anurag Kashyap's Dev D, went on to become one of the most beloved cult classics and deserves all the appreciation it still receives to this day. From the remarkably written screenplay, outstanding performances from Abhay Deol and Mahie Gill, and Amit Trivedi's unique soundtrack, Dev D is one of the better takes on the subject and unlike any other Devdas movie.
8. A Wednesday
Starring – Naseeruddin Shah & Anupam Kher
Director – Neeraj Pandey
Genre – Thriller
Preview Only: Neeraj Pandey's directorial debut, A Wednesday, explores the narrative where Prakash Rathod, an ex-police officer relates the most vital case of his profession wherein he was threatened a bomb detonation in Mumbai by an ordinary common man.
7. Is Love Enough? SIR
Starring – Tillotama Shome & Vivek Gomber
Director – Rohena Gera
Genre – Drama
A romantic relationship between a maid and her master with class and race differences challenging our prejudices is the best part of Sir. One of the many aspects that is impressive about this film is how the crux of the narrative is explained that features Tilotama Shome's character falling in love with her employer and how she was bothered by what opinion people will have.
One of the Best Bollywood Movies on Netflix, Sir is a refreshing film based on the concept of love with terrific performances, it also captivates you to contemplate the truth of the society we live in that is blinded by socio-economic systems.
6. Black Friday
Starring – Kay Kay Menon, Pavan Malhotra
Director – Anurag Kashyap
Genre – Crime
Anurag Kashyap's engaging hard-hitting crime drama, Black Friday, tells about one of the most horrific events in the history of Mumbai: The 1992-93 Riots and Bombings. The film revolves around the intense events and happenings of the blasts. It is truly a must-watch and is one of the Best Bollywood Movies on Netflix. – Aditi Parikh
5. Andhadhun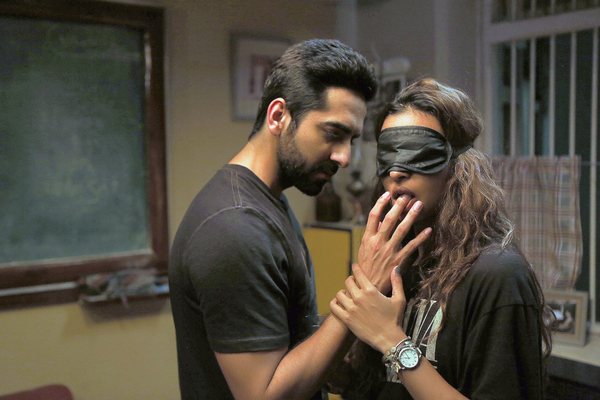 Starring – Tabu & Ayushman Khurrana
Director – Sriram Raghavan
Genre – Black Comedy / Crime / Thriller
Sriram Raghavan's Andhadhun is touted as one of the Best Bollywood Movies in recent years by the Indian audience. It is indeed a well acted, meticulously crafted and an incredibly written satirical crime-thriller which keeps you on the edge of your seat the entire time with multiple twists and turns.
4. Rock On!!
Starring – Farhan Akhtar, Arjun Rampal
Director – Abhishek Kapoor
Genre – Musical Drama
Abhishek Kapoor's Rock On!! is one of those Bollywood classics that stands the test of time in every aspect from the music to the narrative, the production design, and the cinematography. Revolving around four friends and their journey of highs and lows, this 2008 musical drama is both cheerful and heartwarming to watch and has that relatability factor to every individual who grew up in the pre-digital era. If you're having a bad week, Rock On!! will surely lift your spirits instantaneously. One of the Best Bollywood Movies on Netflix.
3. Udaan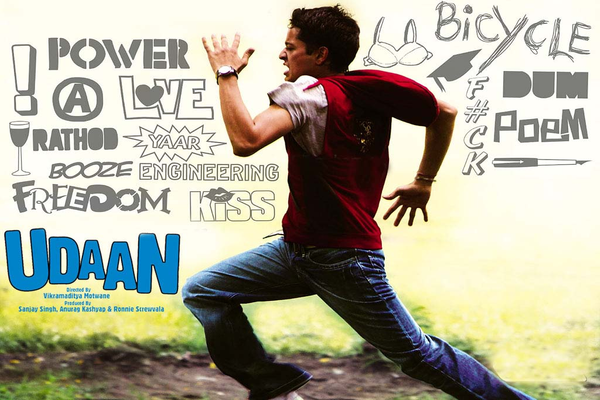 Starring – Rajat Barmecha, Ronit Roy
Director – Vikramaditya Motwane
Genre – Coming-of-Age
If a man like Anurag Kashyap is writing it, it has to be a realistic movie. Udaan is a simple, sweet story that doesn't need to be explained, it needs to be experienced. It is the story of a young boy who is forced to live with his oppressive father and a half-brother after he is expelled from his boarding school. The movie ends on the note of hardship with the boy determined to make it big. This is a movie which defines naked realism. The film looks authentic and easy to relate and yet it has an impressive larger-than-life quality to it that makes wonders. A must watch and one of the Best Bollywood Movies on Netflix.
6. Guru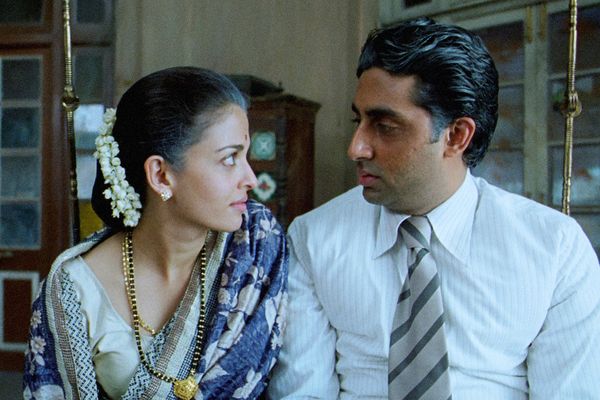 Starring – Abhishek Bachchan, Aishwarya Rai
Director – Mani Ratnam
Genre – Romantic-Drama
From Mani Ratnam, Guru, loosely based on the life of Indian industrial mega tycoon, Dhirubhai Ambani, is one of the very few movies that I like in Jr. Bachchan's filmography. Thanks to the excellent direction from Mani Ratnam, and his ability to bring out the best from everyone. No one could have told the story of a businessman from rags to riches, in Capitalistic Bombay in a more unique, authentic way unless its Mani Ratnam, making Guru one the Best Bollywood Movies on Netflix. – Nirmal Raj
1. Lagaan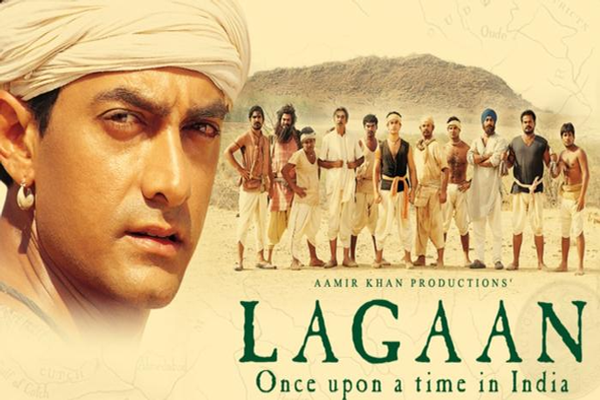 Director – Ashutosh Gowariker
Starring – Aamir Khan
Genre – Sports / Drama
Best Bollywood Movies on Netflix: Released in 2001, Lagaan is, in fact, one of the best movies in both Aamir Khan's and director Ashutosh Gowariker's career. Also, this 224-minute sports drama garnered both critical and commercial acclaim from multiple different markets including China and the United States, with many even calling it as one of the more influential films in Indian Cinema.
Retailing every single ingredient from romance, emotion, comedy to a well-rounded inspirational storyline needed for an entertaining movie, Lagaan is one of those very special Indian films, which will be remembered and will hold a special place in the audience's heart for a very long time. One of the Best Bollywood Movies on Netflix.
Many of our readers have been bored lately as they are stuck at home because of the pandemic of COVID-19. Thanks to the technology we have today there are different ways to entrain yourself since the world wide web is a big place to explore. We make it easier for you to give you the latest TV shows, movies, celebrity gossip, and many more worthwhile articles, but today we found a new site called casinoexpressindia.com, this site provides all of our readers from India, the best in https://casinoexpressindia.comonline casino. Time to check out those new TV shows we love to recommend while playing different fun games.
Online Casino Guide India 磊 Best Toplist in India 2021