Vishal Bhardwaj Gave A Surprise Visit To Priyanka Chopra!!
Priyanka Chopra's Surprise Visit from Ace Director Vishal Bhardwaj
In a heartwarming and unexpected turn of events, Priyanka Chopra recently shared a delightful surprise with her followers on Instagram. The global superstar, known for her stellar acting career and for breaking barriers on the international stage, posted a candid photograph on her Instagram stories, featuring none other than the renowned director, Vishal Bhardwaj.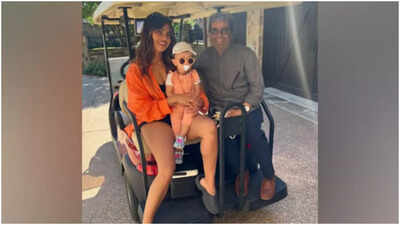 The photo captures a charming moment as Priyanka, Vishal, and Priyanka's adorable daughter, Malti Marie, ride together in a cart. The trio appears to be enjoying their time, and the picture is a testament to their camaraderie.
Priyanka, always one to keep her fashion on point, donned black shorts and an orange shirt. In a delightful display of mother-daughter coordination, Malti sported an orange dress, orange sunglasses, and a white cap. Vishal, on the other hand, kept it casual in a grey shirt and black trousers.
The surprise visit by Vishal Bhardwaj marked a lovely reunion for the pair. Vishal, a maestro in Indian cinema, has directed Priyanka in two critically acclaimed films, 'Kaminey' and '7 Khoon Maaf.' Their collaboration has been notable for its creativity and depth, and fans of both the actress and director eagerly await any news of their potential future projects together.
Priyanka Chopra currently resides in Los Angeles with her husband, the famous singer Nick Jonas, and their adorable daughter, Malti Marie. This candid moment with Vishal Bhardwaj offers a glimpse into her personal life, reminding fans that even global icons cherish simple moments of togetherness and camaraderie.
On the professional front, Priyanka continues to conquer new horizons. She recently unveiled 'Citadel,' a series created by the Russo Brothers. This action-packed show revolves around the lives of two elite agents, Mason Kane (played by Richard Madden) and Nadia Sinh, portrayed by Priyanka herself, who are part of the global spy agency 'Citadel.' Priyanka is set to share the screen with Hollywood heavyweights John Cena and Idris Elba in 'Heads Of State,' a project directed by 'Nobody' filmmaker Ilya Naishuller.
Vishal Bhardwaj, on the other hand, is basking in the glory of the excellent response to his recent spy thriller 'Khufiya.' The film stars Tabu, Ali Fazal, Wamiqa Gabbi, Ashish Vidyarthi, and Azmeri Haque Badhon. 'Khufiya' is based on true events and is adapted from the book 'Escape to Nowhere,' penned by the former Chief of the Counter Espionage Unit of R&AW, Amar Bhushan. The movie is available for streaming on Netflix, where it has garnered attention and acclaim.
The rendezvous between Priyanka Chopra and Vishal Bhardwaj is not only a charming moment for fans but also a testament to the enduring relationships and bonds that are formed in the dynamic world of entertainment. As they continue to captivate audiences with their respective projects, this surprise visit serves as a sweet reminder of the connections and friendships that thrive behind the glitz and glamour of the film industry.
Many of our readers have been bored lately as they are stuck at home because of the pandemic of COVID-19. Thanks to the technology we have today there are different ways to entrain yourself since the world wide web is a big place to explore. We make it easier for you to give you the latest TV shows, movies, celebrity gossip, and many more worthwhile articles, but today we found a new site called casinoexpressindia.com, this site provides all of our readers from India, the best in https://casinoexpressindia.comonline casino. Time to check out those new TV shows we love to recommend while playing different fun games.