Top 8 Health Benefits & Use Of Ambadi
Unlocking the Hidden Potential of Ambadi: 8 Surprising Health Benefits and Uses
Ambadi, also known as Gongura in Telugu, is a vibrant green leafy vegetable cherished by Telugu families for its tangy taste. From weddings to housewarming ceremonies, it's an indispensable part of their meals, lending a unique twist to various cuisines. However, while Gongura's culinary attributes are well-known, its health benefits have often remained in the shadows. In a world where exotic superfoods dominate the health scene, it's time to shed light on the incredible potential of this humble local green.
Indian agricultural scientists have identified a staggering 1532 edible plants, many of which are ignored in our diets. These often-overlooked greens, like Ambadi, can serve as a source of nutrition, medicine, and income for tribal and rural communities. It's high time we embrace these native greens, not only for our own well-being but also to bolster our country's agricultural economy.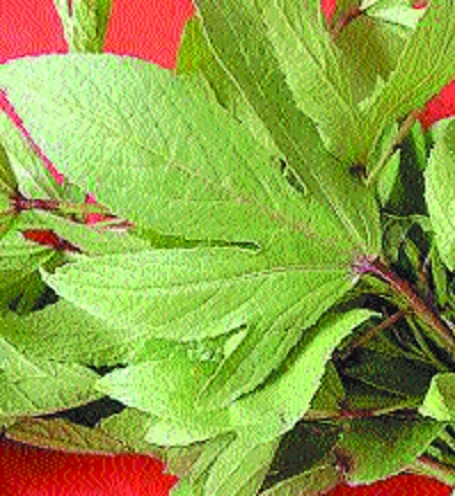 Ambadi: The Queen of Green Vegetables
Ambadi, with its green leaves and red stems, belongs to the hibiscus family. It stands taller than most other greens and boasts a uniquely acidic flavor that protects it from microbial damage during monsoons. This resilience makes it a true queen among green vegetables. Known by different names across India, Ambadi is called Gongura in Telugu, Sorrel leaves or Roselle in English, Pitwaa in Hindi, khata Palanga in Oriya, and mestapat in Bengali. It comes in two varieties: green-stemmed and red-stemmed, with the latter being sourer.
Maharashtra and Andhra Pradesh are the leading producers of Gongura, emphasizing its regional importance.
8 Health Benefits of Ambadi: A Nutritional Powerhouse
Nutritional Powerhouse: Ambadi is a nutritional powerhouse, packing essential nutrients into every bite. A 100-gram serving provides 25 KCal, 0.6g of protein, 0.2g of fat, 1.3g of crude fiber, 5.1g of carbohydrates, 130mg of calcium, 20mg of phosphorus, 1.7mg of iron, and 123mg of magnesium. It also contains trace minerals like potassium, manganese, zinc, sodium, and copper. Moreover, it's a rich source of vitamins A, C, and folate, among others.

Good for Women's Health: Ambadi is a natural source of folic acid and iron, without the constipation side effects commonly associated with iron supplements. Its high vitamin C content can alleviate menstrual pain and reduce heavy bleeding when consumed as a tea during regular periods.

Good for Bone Health: With abundant calcium, magnesium, and phosphorus, Ambadi contributes to strong and healthy bones. Regular consumption can help prevent bone loss and conditions like osteoporosis.

Boosts Immune Health: The high vitamin C content in Ambadi strengthens the immune system and increases white blood cell production. This makes it a popular choice even during monsoons when immunity is crucial.

Controls Homocysteine Levels: Ambadi is a valuable source of folate and Vitamin B6, both of which help maintain low homocysteine levels. Elevated homocysteine is associated with early heart and renal diseases.

Good for Diabetics: Ambadi's fiber content helps regulate blood sugar levels. It's traditionally consumed with low glycemic index foods like makai, jowl, bajra, and ragi, making it suitable for diabetics.

Prevents Constipation: Magnesium and fiber in Ambadi provide relief from constipation by relaxing intestinal muscles and softening stool, allowing for smoother bowel movements.

Stomach Soother: Easily digestible and high in slowly digestible starch, Ambadi nurtures the gut ecosystem, improving immunity, and preventing diarrhea. Its sour taste stimulates the appetite.
Versatile Uses of Ambadi
Ambadi offers versatile culinary possibilities:
Flowers: Ambadi's red flowers can be boiled to create a herbal tea that aids digestion and detoxifies.

Leaves: The leaves are consumed as a delicacy throughout India and are especially popular during the monsoon season. They can be added to curries, dals, and pickles, imparting their unique sour taste while providing essential nutrients.

Stems: Stems can be cooked along with regular curries and dals, extending the usage of this nutritious vegetable.

Seeds: Ambadi seeds can be crushed to extract oil, which is used for lighting lamps and cooking.
Selecting and Storing Ambadi
When choosing Ambadi, look for firm, unwilted leaves that are deep green without any signs of yellowing or browning. Smaller leaves tend to be more tender and have a milder flavor. Store Ambadi in the refrigerator, wrapped in a paper towel or cloth bag, to keep it fresh for 1-2 weeks.
Potential Side Effects and Conclusion
While Ambadi offers numerous health benefits, it's important to consume it in moderation. Overconsumption may lead to oxalate poisoning, which can harm the kidneys, liver, and gastrointestinal tract. Some individuals may experience acidity, but blanching Ambadi for 10 minutes before use can alleviate this issue.
Ambadi is a treasure trove of nutrition and a versatile ingredient in Indian cuisine. By embracing native greens like Ambadi, we not only enhance our health but also support local agriculture, reduce food miles, and strengthen the agro-economy. So, next time you're planning a meal, consider adding Ambadi to your plate, and savor the unique flavors and health benefits it has to offer.
Many of our readers have been bored lately as they are stuck at home because of the pandemic of COVID-19. Thanks to the technology we have today there are different ways to entrain yourself since the world wide web is a big place to explore. We make it easier for you to give you the latest TV shows, movies, celebrity gossip, and many more worthwhile articles, but today we found a new site called casinoexpressindia.com, this site provides all of our readers from India, the best in https://casinoexpressindia.comonline casino. Time to check out those new TV shows we love to recommend while playing different fun games.