Top 5 Greatest Croatian Footballers Till 2023
Legends of the Pitch: Croatia's Footballing Icons Through the Years
Croatia, a country known for its stunning landscapes, rich history, and vibrant culture, has also made a significant mark on the world of football. Over the years, Croatia has produced a plethora of footballing talents who have not only shone on the domestic stage but have also made their mark on the international scene. As of 2023, here are the top 5 greatest Croatian footballers who have left an indelible mark on the beautiful game.
1. Luka Modrić: The Maestro
Luka Modrić, often referred to as the midfield maestro, is undoubtedly one of Croatia's finest football exports. His vision, precise passing, and exceptional ball control have made him a mainstay at Real Madrid, where he has achieved numerous accolades, including multiple UEFA Champions League titles. Modrić's crowning achievement came in 2018 when he led the Croatian national team to the FIFA World Cup final, displaying his leadership and footballing genius on the grandest stage.
2. Davor Šuker: The Golden Boot Winner
Davor Šuker is a legendary figure in Croatian football history. Known for his lethal goal-scoring ability, Šuker won the Golden Boot as the top scorer in the 1998 FIFA World Cup. He was instrumental in Croatia's third-place finish in that tournament, and his club career saw him don the jerseys of renowned clubs like Real Madrid and Arsenal. His clinical finishing and knack for finding the back of the net make him one of the greatest Croatian forwards of all time.
3. Ivan Rakitić: The Midfield Dynamo
Ivan Rakitić has established himself as one of Croatia's premier midfielders. His versatility, work rate, and ability to control the tempo of the game make him an invaluable asset. Rakitić has enjoyed a successful club career with Barcelona and Sevilla, winning numerous titles, including the UEFA Champions League. He was a key part of the Croatian squad that reached the World Cup final in 2018, contributing with both goals and assists.
4. Zvonimir Boban: The Creative Force
Zvonimir Boban was a creative force in Croatian football during the 1990s. Known for his playmaking abilities and superb passing range, Boban played a pivotal role in the Croatian national team's early years. He was part of the squad that achieved a historic third-place finish in the 1998 World Cup. At the club level, Boban had a successful career with AC Milan, where he won multiple Serie A titles and the UEFA Champions League.
5. Josip Šimunić: The Defensive Wall
In the realm of defenders, Josip Šimunić stands tall as one of Croatia's best. His commanding presence in defense and excellent aerial ability made him a crucial figure for both club and country. Šimunić's commitment to the Croatian national team was exemplified by his appearances in three FIFA World Cups (2002, 2006, and 2014). He played an instrumental role in Croatia's journey to the 1998 World Cup semifinals.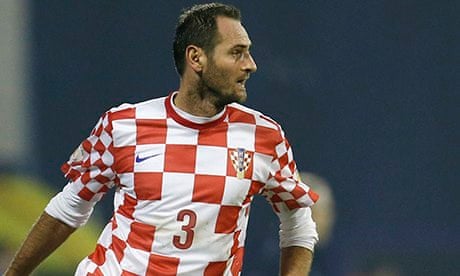 Conclusion:
Croatia has been a breeding ground for exceptional footballing talent, and these top 5 Croatian footballers have carved their names into the annals of the sport's history. With their skill, determination, and dedication, they have not only achieved personal success but have also played pivotal roles in raising the profile of Croatian football on the global stage. As of 2023, these footballing legends continue to inspire the next generation of Croatian talent and leave an enduring legacy in the beautiful game.
Many of our readers have been bored lately as they are stuck at home because of the pandemic of COVID-19. Thanks to the technology we have today there are different ways to entrain yourself since the world wide web is a big place to explore. We make it easier for you to give you the latest TV shows, movies, celebrity gossip, and many more worthwhile articles, but today we found a new site called casinoexpressindia.com, this site provides all of our readers from India, the best in https://casinoexpressindia.comonline casino. Time to check out those new TV shows we love to recommend while playing different fun games.