India's Youngest IPS (Female) Officer I Youngest IPS & IAS Officers In 2023
Breaking Barriers and Shattering Records: India's Youngest IAS and IPS Officers of 2023
The UPSC Civil Services Examination (CSE) is a formidable challenge that requires unwavering dedication and disciplined effort. While many candidates spend years preparing for this prestigious exam, a select few have achieved exceptional success at a remarkably young age, becoming the youngest IAS and IPS officers in India. To achieve such a feat, aspirants must commence their preparation early, strategize effectively, and acknowledge the hurdles they may encounter. In this article, we delve into the extraordinary stories of these young IAS and IPS officers, shedding light on their remarkable accomplishments and the challenges they faced.
The UPSC Exam
The Civil Services Examination (CSE) conducted by the Union Public Service Commission (UPSC) is one of the most challenging exams in India. With its extensive syllabus and rigorous selection process, it is considered the toughest exam in the country. While coaching can be beneficial, success is not solely dependent on it. Several aspirants have successfully cracked the UPSC exam through self-study, underscoring the importance of individual effort and commitment. This article explores the inspiring stories of those who not only achieved success but did so at an exceptionally young age, making them the youngest IAS and IPS officers in India in 2023.
The Youngest IAS Officer In India
Ansar Ahmad Shaikh, born on June 1, 1995, is India's youngest IAS officer. Hailing from Shelgaon village in Jalna, Maharashtra, Ansar's journey to becoming an IAS officer is truly inspiring. Despite facing significant challenges, including financial constraints and belonging to a marginalized community, Ansar cleared the UPSC CSE in 2016 at the age of just 21, securing an All India Rank of 361. He currently serves as the Officer on Special Duty at the Department of MSME & Textiles in the Government of West Bengal. His choice of Marathi as the medium for answer writing in mains and Political Science as his optional subject significantly contributed to his success.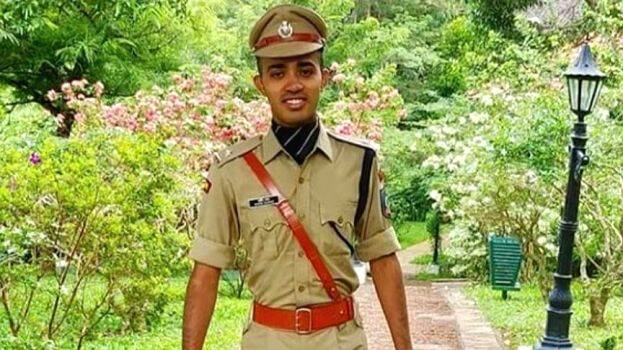 The Youngest Female IAS Officer in India
Smita Sabharwal, born in Darjeeling, nurtured dreams of becoming an IAS officer from a young age. Although she faced initial setbacks, including a failed first attempt, Smita persevered. In her second attempt, she secured an All India Rank of 4 in the UPSC CSE. Smita currently holds the position of Additional Secretary to the Chief Minister of Telangana. Her academic excellence and unwavering determination have made her an inspirational figure for numerous young women across the nation.
The Youngest IPS Officer In India
Becoming an IPS officer is a challenging yet immensely rewarding journey. Hasan Safin, at the age of 22, etched his name as the youngest IPS officer in India. Hailing from the small village of Kanodar in Gujarat's Palanpur district, Hasan's family faced financial constraints. Nevertheless, his unwavering dedication and disciplined work ethic paid off when he successfully cleared the UPSC CSE in 2018, securing an All India Rank of 570. He currently serves as the Assistant Superintendent of Police in the District of Jamnagar, Gujarat.
The Youngest Female IPS Officer in India
Merin Joseph, a Kerala native, holds the honor of being the youngest female IPS officer from the state. Her journey commenced with a strong educational foundation, culminating in her success in the UPSC CSE in 2012 at the age of 22. She secured an All India Rank of 188. Although her initial dream was to become an IAS officer, she gracefully embraced the IPS challenge with determination. Her commendable work in public services has garnered numerous accolades, making her a beacon of inspiration for countless individuals aspiring to join the civil services.
Tips for Success in UPSC at a Young Age
To excel in the UPSC CSE at a young age, aspirants must plan their preparation meticulously and remain dedicated to their goals. Here are some key steps:
Structured Preparation: Initiate your UPSC preparation early and gain comprehensive insights into the nuances of the exam.

Effective Optional Subject Choice: Select your optional subject based on your interests and commence your preparation for it alongside your prelims preparation.

Time Management: Efficiently manage your time and continue your UPSC preparation while completing your graduation.

Educational Qualification: Conclude your bachelor's degree before appearing for the exam. Aspirants can commence their preparation during their final year if they meet the age criteria.

Comprehensive Syllabus Understanding: Get well-acquainted with the extensive UPSC syllabus, covering both static and dynamic topics.

Read Books and Stay Informed: Peruse motivational books and interview transcripts of successful IAS and IPS officers. Stay well-informed about current affairs, which play a pivotal role in the UPSC exam.
The journeys of India's youngest IAS and IPS officers are stories of unparalleled determination, resilience, and hard work. These individuals have defied the odds, surmounted numerous challenges, and emerged as shining examples of what unwavering determination can achieve. Their stories serve as a wellspring of inspiration for all UPSC aspirants, underscoring that success is attainable with careful planning, diligent efforts, and an unyielding attitude. These young achievers underscore that age should never be a barrier to serving one's nation through the civil services. We extend our best wishes to all UPSC aspirants in their quest to make a positive impact on society.
Many of our readers have been bored lately as they are stuck at home because of the pandemic of COVID-19. Thanks to the technology we have today there are different ways to entrain yourself since the world wide web is a big place to explore. We make it easier for you to give you the latest TV shows, movies, celebrity gossip, and many more worthwhile articles, but today we found a new site called casinoexpressindia.com, this site provides all of our readers from India, the best in https://casinoexpressindia.comonline casino. Time to check out those new TV shows we love to recommend while playing different fun games.