Review: "12th Fail" - A Heartwarming Tale of Determination and Hope
Vikrant Massey Shines in a Compelling Performance as Manoj in Vidhu Vinod Chopra's Latest Film
Cast and Crew:
"12th Fail" is a film that brings together a talented cast and crew to tell an inspiring story of a young man's journey against all odds. Directed by Vidhu Vinod Chopra and featuring Vikrant Massey in the lead role, the film is a heartfelt exploration of dreams, determination, and the human spirit. Alongside Vikrant Massey, the cast includes Medha Shankar and Anantvijay Joshi, who contribute significantly to the film's narrative.
Summary:
The film revolves around Manoj, a "12th fail" student from a Chambal village, who aspires to become an IPS officer. His journey takes him through a challenging education system where cheating is encouraged to maintain high pass percentages. However, a transformative encounter with an honest police officer becomes his source of inspiration. This life-altering moment leads Manoj from his village to Gwalior and, ultimately, to Delhi, where he sets his sights on the arduous IPS examination.
What We Liked:
Vikrant Massey's portrayal of Manoj stands out as a compelling and authentic performance. He breathes life into the character, making us emotionally invested in his journey. Massey's performance captures the essence of a determined and hopeful young man, and he shines throughout the film. Medha Shankar and Anantvijay Joshi also contribute significantly to the film's charm, adding depth to their respective characters.
What We Did Not Like:
While "12th Fail" offers a heartwarming and emotionally charged narrative, it occasionally leans towards an abundance of well-intentioned characters and an overly cheerful atmosphere. This might come across as somewhat unrealistic, given the harsh realities faced by the protagonist. However, the film manages to strike a balance and avoids becoming excessively sentimental.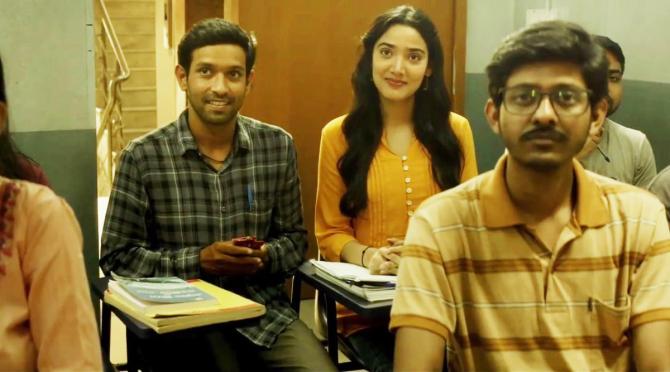 Verdict:
In this modest work by Vidhu Vinod Chopra, "12th Fail" successfully conveys the message that success for one is a triumph for all underdogs. It celebrates the potential for goodness in people, even in challenging circumstances, and shines a light on the unequal opportunities for education in India. The film also highlights the disconnect between the IPS interviewers and the grassroots realities of the candidates they assess.
In conclusion, "12th Fail" is a touching and genuine portrayal of determination, hope, and the pursuit of dreams. It offers an inspiring story that resonates with audiences. With powerful performances, especially from Vikrant Massey, and a narrative that tugs at the heartstrings, "12th Fail" is a feel-good film that manages to stay grounded and self-aware. It reminds us of the importance of integrity and the potential for goodness, even in the face of adversity.
Star Rating: ★★★★☆
"12th Fail" is a heartwarming film worth watching for its compelling narrative and exceptional performances. It captures the essence of resilience and determination and leaves audiences with a message of hope and the belief that dreams can be achieved against all odds.
Many of our readers have been bored lately as they are stuck at home because of the pandemic of COVID-19. Thanks to the technology we have today there are different ways to entrain yourself since the world wide web is a big place to explore. We make it easier for you to give you the latest TV shows, movies, celebrity gossip, and many more worthwhile articles, but today we found a new site called casinoexpressindia.com, this site provides all of our readers from India, the best in https://casinoexpressindia.comonline casino. Time to check out those new TV shows we love to recommend while playing different fun games.