Top 10 Pattu Saree Blouse Designs
From embracing modern style to the classic designs, we have it all for you when it comes to pattu saree blouse designs. When we talk about sarees and completing an outfit out of it, the blouse becomes an important part as the majority of the look is carried out by the blouse. Isn't it? The design, colour and pattern of not just the saree but the blouse also needs to be taken care of. If your saree is simple and elegant you can go for a heavy or standing out blouse pattern and more. So, let's begin the hunt for the perfect blouse.
1. Classic Sleeveless Blouse
A classic pattu blouse is traditional as well as elegant. You can go for a sleevless one as it will compliment the heavy pattu saree and flow well with the raw silk. Do style the look with some stunning earrings or jhumkas and that will complete your look.
2. Backless Blouse with Details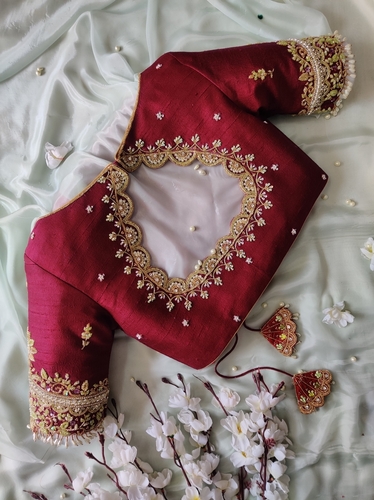 This design will never disappoint you as a backless blouse is everybody's favourite. If you are confused and don't know which design to go for, then this one is for you. Choose a saree with embellishments and add it to the back of the blouse. The look then will require minimal accessorises.
3. Classic Half Sleeve Blouse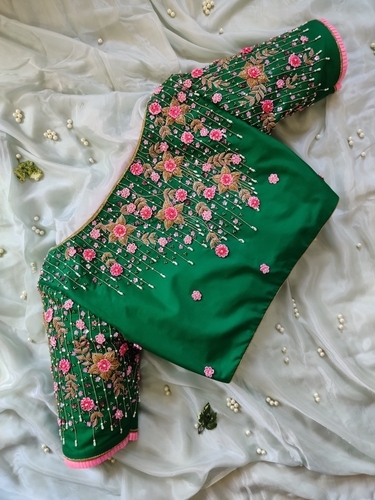 A traditional blouse takes a Kanchipuram saree to next level. Don't you think so? A classic half sleeves blouse is perfect for parties to create a heavy look with little efforts.
4. Half Sleeve Blouse with Intricate Designs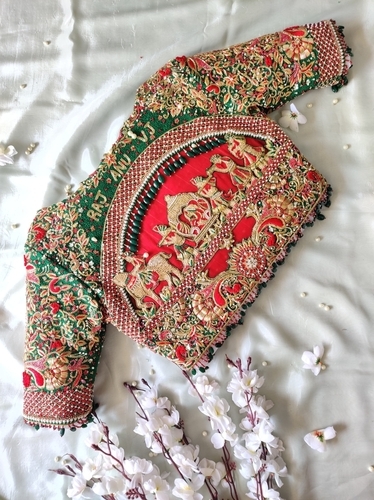 We have already talked about half sleeves blouse right? So now let's me tell you how to stand out in a nothing new half sleeve blouse. You can just add the stunning intricate designs to make it look different. Go for nuetral shades or contrasting ones to pop up in the crowd.
5. Floral Half Sleeve Blouse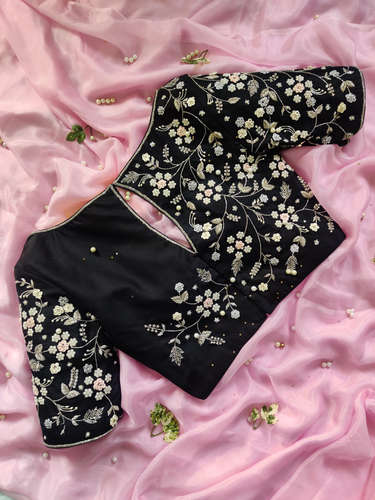 Floral designs are subtle and delicate. They are light but give a heavy look. They look amazing for day events and you can use some dark colours to flaunt the same at night. This also gives you the chance to add some floral jwellery to your look.
6. Floral Embroidered Square Neck Blouse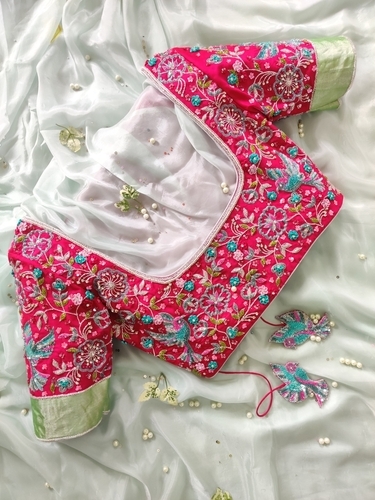 We have already talked about floral designs. Now if you want to do more to your blouse design, then go unique necklines like sweartheart or square necks.
7. Contrasting Colour Pairing Blouse
This is another great way to enhance your saree look. Pairing the saree with a contrasting coloured blouse shows a sense of confidence as well. Colours like blue and orange, red and green, white and pink go really well with each other.
8. Heavily Embroidered Blouse
You will see many celebrities in this type of blouse. They carry it on events and their family functions. If you want to get some celebrity look, you can definately try it out.
9. Subtle Sweetheart Neck Blouse
It is a subtle blouse style which highlights your collarbone and neck region. It adds elegance to your look and goes well with all types of sarees.
10. Traditional Border Blouse
If you are too confused and don't know what to do for your blouse just rely safely on a border blouse.
Many of our readers have been bored lately as they are stuck at home because of the pandemic of COVID-19. Thanks to the technology we have today there are different ways to entrain yourself since the world wide web is a big place to explore. We make it easier for you to give you the latest TV shows, movies, celebrity gossip, and many more worthwhile articles, but today we found a new site called casinoexpressindia.com, this site provides all of our readers from India, the best in https://casinoexpressindia.comonline casino. Time to check out those new TV shows we love to recommend while playing different fun games.