Manoj Jarange Patil Age, Wiki, Caste, Family, Wife, Education, Net Worth In 2023
Unveiling the Life and Journey of Manoj Jarange Patil: Age, Wiki, Caste, Family, Wife, Education, and Net Worth in 2023
Manoj Jarange Patil, a prominent figure in Maharashtra's political landscape, has emerged as a fervent advocate for the Maratha community's rights. Born in 1982 in Matori village, Beed district, Maharashtra, Patil's journey is marked by dedication to the cause of social justice and empowerment.
Early Life and Education: Raised in a devout Maratha Hindu family, Manoj's parents, Raosaheb and Prabhavati Jarange, instilled in him a strong sense of community values. He grew up alongside his two elder brothers, Jagannath and Kakasaheb, in the agrarian surroundings of Matori. While the specifics of his early schooling remain undisclosed, Manoj's pursuit of higher education led him to R.B. Attal College in Gevrai, Maharashtra, where he earned his graduate degree.
Political Journey and Activism: Manoj's foray into politics commenced in the early 2000s when he joined the Congress and ascended to the presidency of the Youth Congress in Jalna district. However, a turning point in his political trajectory came with his principled stand against American author James Laine's controversial work, "Shivaji: Hindu King in Islamic India," leading to his departure from the party.
Manoj Jarange Patil's net worth is under $1million.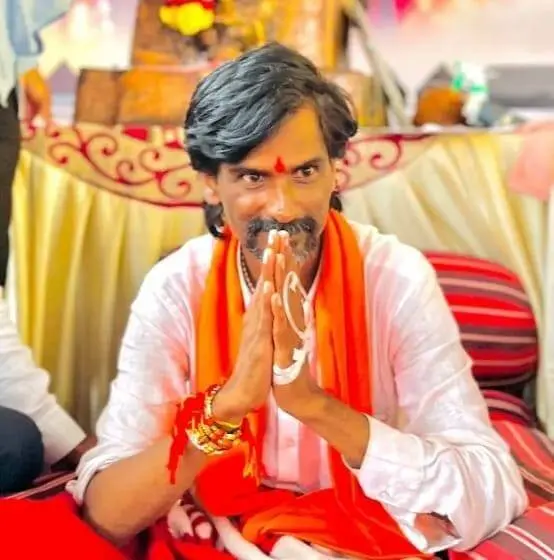 In 2011, fueled by a fervent commitment to the Maratha cause, Manoj established 'Shivba Sanghatana,' an organization dedicated to the welfare of the community. His initiatives included leading agitations to secure water release from the Jayakwadi dam for drought-stricken cultivators in Jalna district.
The Maratha Quota Movement: In 2021, following the Supreme Court's decision to invalidate the Maratha reservation, Manoj spearheaded a three-month-long protest in Sasht Pimpalgaon village, Jalna district. His unwavering resolve drew the attention of Chief Minister Uddhav Thackeray, ultimately leading to a resolution.
However, it was in August 2023 that Manoj embarked on his most significant protest. Initiating an indefinite hunger strike in Antarwali Sarathi village, Jalna, he sought to rally support for the Maratha quota. Tragically, the situation turned violent on September 1 as the police sought to forcibly admit him to a hospital, resulting in injuries to both protestors and law enforcement officers, along with extensive property damage.
A Call for Equality: Manoj's demands extended beyond mere symbolic gestures. On October 25, 2023, he commenced a fast-unto-death, compelling the Maharashtra government to issue an order granting Kunbi caste certificates to Marathas in the Marathwada region, thus enabling access to reservation benefits under the OBC category. However, Manoj remained steadfast in advocating for equal rights for all Marathas.
Conclusion: Manoj Jarange Patil's tireless pursuit of justice and equity for the Maratha community underscores his commitment to a cause larger than himself. As he concluded his nine-day-long indefinite fast in November 2023, he sent a resounding message to the government and political leaders: the fight for Maratha community reservation continues, and he stands prepared for further agitation if necessary. Manoj's legacy serves as a beacon of hope and inspiration for countless individuals seeking a more inclusive and equitable society.
Many of our readers have been bored lately as they are stuck at home because of the pandemic of COVID-19. Thanks to the technology we have today there are different ways to entrain yourself since the world wide web is a big place to explore. We make it easier for you to give you the latest TV shows, movies, celebrity gossip, and many more worthwhile articles, but today we found a new site called casinoexpressindia.com, this site provides all of our readers from India, the best in https://casinoexpressindia.comonline casino. Time to check out those new TV shows we love to recommend while playing different fun games.